Directions
F&F Hostel is located at:
Stop 6 Playa Brava, Carlos Vaz Ferreira St between, Punta del Este, Uruguay
Tel: +598 42485821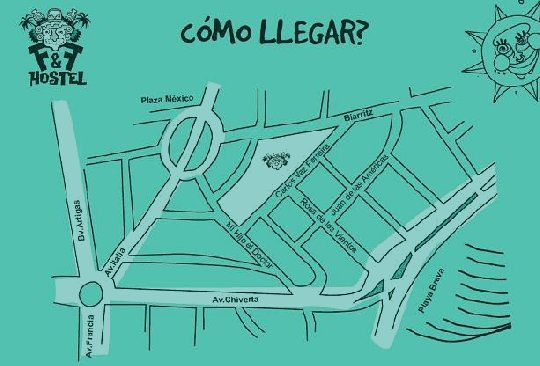 Directions
Stop 6 Playa Brava, Carlos Vaz Ferreira St between M`Hijo el Dotor and Cantaro fresco.

When you arrive at the bus terminal, take a bus in direction to La Barra. Leave at bus stop No. 5 and step into Avenida Chiverta for some meters before you turn to Cantaro Fresco street on the right. Follow it to the end - right in front of you is F&F Hostel!
You can also walk, just have to follow the beach Playa Brava (where The Fingers are) until bus stop No. 5 and then follow the instructions above. It will take you about 15 min.